A compostable one season aviary
Dirty, ugly, wet, moss is growing on it = Thats how your aviarys look like after the winter. This aviary is made to be put it on the compost or to be burried it in your garden after the winter. Plus: If you want to, you can paint it. It's perfekt
for families with children or everyone who wants an individual aviary.

Materialmodels: Fixing it at the branch, food bowl
The eight components are made from kraftplex sheets that have been coated in beeswax. The thin layer of wax makes sure that the rain and snow doesn't soak into the kraftplex. It's also necessary for better cohesion of the components when you put the pieces together. In many tests, we simulated the winter to perfect the necessary thickness of the materials.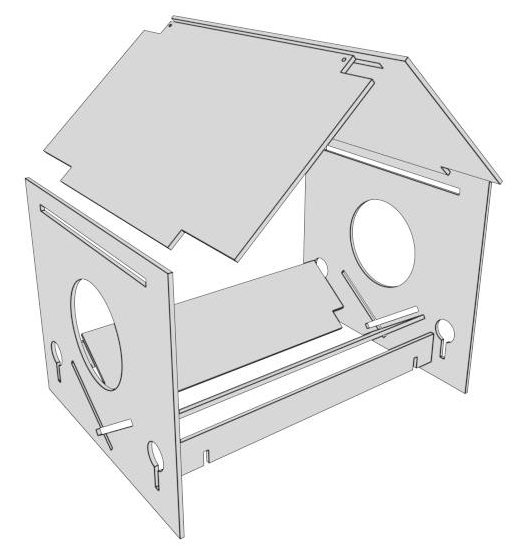 Benefit for the manufacturer:
simple plug-in-system out of eight components with same material
cheap transport, materials, packaging – huge profit
fast massproduction
Benefits for the User:
individual desig is possible
cheap
"Do it yourself-character" result in higher use and acceptance
having fun mounting and painting the peaces
compostable – ugly arrears of weathering musn't be be remoted
A project in the subject moddeling and  manifacturing, 3th semester
Teampartner: Anja König, Lukas Heintschel